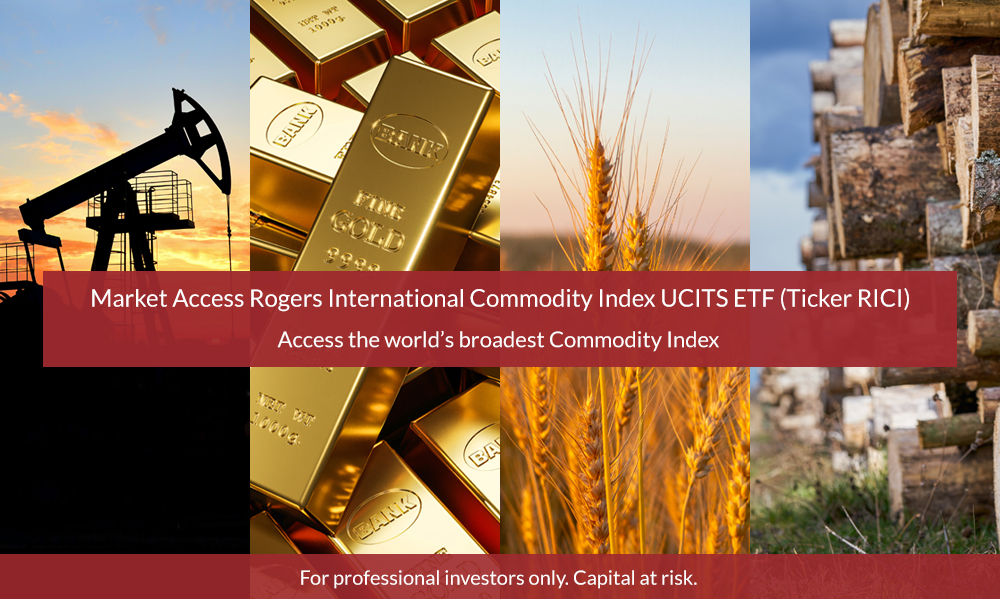 Introduction
The Market Access Rogers International Commodity Index UCITS ETF (RICI) is one of Europe's longest-established and broadest commodity ETFs. It was launched in 2006 and is listed in Frankfurt, Zurich and on the London Stock Exchange.
The ETF tracks the Rogers International Commodity Index® (RICIGLTR), a US dollar-denominated total return index of commodities consumed in the global economy, ranging from agricultural to energy to metal products. The Index provides exposure to 38 different exchange-traded commodities, through futures contracts quoted in four currencies, listed on 10 exchanges in four countries.
RICIGLTR is calculated on a total return basis, meaning that it includes an assumed interest rate return based on the USD 3-month T-bill rate.
Reasons to consider the RICI and broad commodity exposure
RICI has the broadest range of constituents among major commodity benchmarks
A broad index provides a potential hedge against rising inflation risks
Themes: base metals are key to the clean energy transition
Themes: climate change impacts agriculture and energy demand
Oil and gold provide a potential hedge against geopolitical risks
Performance
Source: Market Access, Bloomberg. Past performance should not be used as an indicator of future performance.
Discrete annual performance to 30 June 2023 (in GBP)
| | Jun 18 - Jun 19 | Jun 19 - Jun 20 | Jun 20 - Jun 21 | Jun 21 - Jun 22 | Jun 22 - Jun 23 |
| --- | --- | --- | --- | --- | --- |
| Jim Rogers International Commodity Index (GBP) | -4.82% | -20.01% | 42.70% | 59.46% | -16.43% |
| Spot Gold (GBP) | 4.52% | 44.86% | -10.90% | 17.19% | 0.75% |
| FTSE 100 Index | -4.68% | -15.24% | 14.06% | 3.91% | 3.00% |
| FTSE NAREIT All Equity REITS TR Index (GBP) | 12.48% | 0.08% | 19.04% | 7.65% | -8.98% |
| 5 Yr Gilt Index | 0.74% | 0.55% | 0.10% | 0.99% | 3.39% |
Source: Market Access, Bloomberg. Past performance should not be used as an indicator of future performance.
Five year returns to 30 June 2023 (in GBP)
| 5 Year | RICIGLTR (GBP) | GBP Gold Spot (XAU) | FTSE 100 Index |
| --- | --- | --- | --- |
| Performance | 44.79% | 59.30% | -1.38% |
| Annualised performance | 7.68% | 9.76% | -0.28% |
| Annualised Volatility | 19.59% | 14.32% | 17.70% |
| Max Drawdown | 40.17% | 22.43% | 35.78% |
| Sharpe Ratio | 0.34 | 0.60 | -0.08 |
Source: Market Access, Bloomberg. Past performance should not be used as an indicator of future performance.
Commodities as an inflation hedge
Commodities, as key inputs in manufacturing and consumer staples, can be leading indicators of emerging inflation and exposure to them can serve to potentially hedge inflation risks.
Source: Market Access, Bloomberg. Past performance should not be used as an indicator of future performance.
COMMODITY INDEX CONSTITUENTS RICI vs BLOOMBERG, UBS CMCI, S&P GSCI
| | RICI | BCOM | UBS CMCI | S&P GSCI |
| --- | --- | --- | --- | --- |
Source: Target 2023 weights. Market Access, index issuer websites: RICI, Bloomberg Commodity Index, UBS CMCI, S&P GSCI. RICI - Rogers International Commodity Index (RICIGLTR), BCOM – Bloomberg Commodity index (BCOMTR), UBS CMCI Constant Maturity Commodity Index (CMCITR), S&P GSCI - S&P GSCI Index (SPGCGPTR).
RICI index background
James B. Rogers, Jr. designed the index in the late 1990s. His focus was to create an index that reflected global consumption of commodities.
This global focus differentiates the RICI from other commodity indices, meaning that it includes commodities like rice, rubber, white sugar and lumber.
There are 10 commodities in the RICI that are not included in the other three comparison benchmarks. They represent 8.05% of the index target weights.
Base metals – essential to the transition to clean energy
In the drive towards a net zero carbon economy, there will be a potentially significant uplift in demand for commodities that are critical in enabling the transition to clean energy. This includes nickel, which is one of the key materials used in batteries for electric vehicles.
Stated Policies Scenario, an indication of where the global energy system is heading based on a sector-by-sector analysis of today's policies and policy announcements.
Sustainable Development Scenario, indicating what would be required in a trajectory consistent with meeting the Paris Agreement goals.
Source: International Energy Agency, The Role of Critical Minerals in Clean Energy Transitions, NTree International
Commodity in focus – Wheat
Source: Data as of 30 June 2023. Market Access, Bloomberg.
On July 17, 2023, Russia withdrew its participation in the Black Sea Grain Initiative1, which allowed Ukraine to export nearly 33 million tonnes of grain and other agricultural products from its Black Sea ports. The principal exports under the agreement were 8.9 million tonnes of wheat and 16.9 million tonnes of corn.
Despite Russia's withdrawal from the Initiative, Ukraine has been able to export some grain via its Danube River ports, although these have been bombed several times in August 2023. With the blocking of exports via the Black Sea and attacks on export infrastructure, Ukraine is reviewing its options, including enhancements to overland routes, to maximise the amount of grain production that it is able to export.
Focusing on wheat, the change in Russian policy has had little obvious price impact to date. Indeed, the outlook for wheat production in 2023/24 looks broadly positive, with a slightly higher level of production than in 2022/23 based on the USDA WASDE report2. The USDA is forecasting global 2023/24 production of 793.37 million tonnes versus an estimated 789.97 million tonnes in 2022/23. This is despite weather stress that is negatively affecting production in Canada, China and the EU.
Indeed, weather conditions could become a more significant factor for parts of the agricultural complex over the remainder of the year and into early 2024. This is because the El Niño-Southern Oscillation (ENSO) is currently in the El Niño phase. El Niño typically results in increased rainfall in regions such as Central Asia, southern North America, south-eastern South America, southern Europe, and southern and eastern China, while drier-than-average conditions tend to occur in areas such as Central America, northern South America, Southern Africa, India, Northern China, and Australia3.
Sources:

How to invest
Please contact your wealth management adviser or stockbroker. The ETF is also available through leading online investment platforms. The ETF is ISA and SIPP eligible.
Please contact us if there any issues with trading the ETF through a platform and we will gladly try to assist.
To find out more, please click here for fund information and literature.
Please read the prospectus, including the risk factors, and KIID before making an investment in the ETF.
Click here to find out more about Market Access and China Post Global.
key features
| | |
| --- | --- |
| Legal form | UCITS ETF |
| ISIN | LU0249326488 |
| TER / OCF | 0.60% |
| Domicile | Luxembourg |
| Management Company | FundRock Management Company S.A. |
| Investment Manager | China Post Global (UK) Limited |
| Custodian and Administrator | RBC Investor Services Bank S.A. |
| Replication | Synthetic (swap with Barclays Bank Plc) |
| ISA / SIPP eligible | Yes |
| UK Reporting Fund Status | Yes |